Dogs Saving Dogs is a pet-based, donation raising non-profit that raises money for dog shelters and dog rescue organizations. The premise is that the donation comes from your family pet (usually dogs) on behalf of yourself and your family. That donation helps dogs in shelters, kennels and also dog rescue & adoption organizations. We establish a current contribution goal for an organization in need and then post our donation status to show where we stand with that campaign!

Fur Sisters Receives Check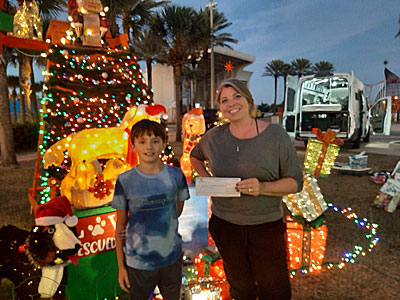 The previous campaign is over and Fur Sisters has received their first check for $1125 from Dogs Saving Dogs! The check was presented to Kelly from Fur Sisters by Nicklaus Bisceglio (representing Dogs Saving Dogs) at the Beaches Town Center this past week.
Thanks to all who contributed to this campaign and we look forward to our Holiday Campaign which we are running over the holiday season. Thanks so much for your support and donations which help us help dogs & cats in need.