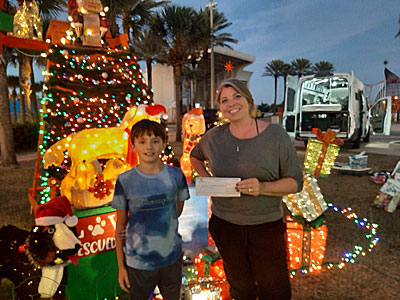 Fur Sisters Receives Check
The previous campaign is over and Fur Sisters has received their first check for $1125 from Dogs Saving Dogs! The check was presented to Kelly from Fur Sisters by Nicklaus Bisceglio (representing Dogs Saving Dogs) at the Beaches Town Center this past week.
Thanks to all who contributed to this campaign and we look forward to our Holiday Campaign which we are running over the holiday season. Thanks so much for your support and donations which help us help dogs & cats in need.

Fur Sisters - Furever Urs Rescue
Jacksonville, Florida

Our current campaign is for Fur Sisters - Furever Urs Rescue which is a local non-profit organization that focuses on saving dogs from over crowded shelters and other urgent situations. The small, rural county shelters in our surrounding area have very little funding or exposure to the general public. They depend on rescues like Fur Sisters to help save the animals that end up there.
Fur Sisters pulls dogs from these shelters, provide the vet care they need and place them in foster homes until adopted. Some need more care than others. They pay for Heartworm treatments, surgeries, spay/neuter, vaccinations, etc. All of this takes alot of time, effort and money. They promote them for adoption at local events, their website and social media pages.
At this time they have 27 dogs under their care looking for their forever homes. The number of dogs changes weekly but is usually 20-30 dogs in the rescue at any given time. As you can imagine the vet bills add up quickly. They also have several dogs in boarding that is costly for us due to lack of fosters at the moment. They pay out $2,000-$4,000 weekly for vet and boarding bills. Fundraisers and regular donors are the only way they can keep up with the never ending veterinary bills.
These precious souls deserve a second chance at happy lives. They work tirelessly to make that happen for as many as possible. Without the support of our community they couldn't continue to do what they do.
Dollar goal for this campaign is $2000. All proceeds go straight to Fur Sisters. We hope you all enjoy the selfie contests all the while raising critical funds needed. Top 5 contest winners will receive a t-shirt from Fur Sisters. Grand prize winner gets a Dog Day at the Fur Sisters Spa!